Sara McNutt founded The Pet Mentor after more than 17 years in the animal industry. She made a career out of training and caring for many different types of animals from a young age. By the age of 14 she was working as a horse trainer and riding instructor, as well as competing with her clients' horses. After graduating from Moorpark College's Exotic Animal Training and Management (EATM) program, she has had the opportunity to work with everything from tigers, camels, monkeys, alligators, eagles and over a 100 species in between.

Sara worked at a tiger show in northern California at Marine World Africa USA, a bird show in Florida at Disney's Animal Kingdom, a desert species show in southern California at The Living Desert, and at several private facilities doing Wildlife Education outreach shows. She made frequent appearances on various local news programs with zoo animals, as well as handling animals on The Tonight Show with Jay Leno, and for Jack Hanna on Larry King Live.

Dog training really came back into play when several big cats that she worked with had their own companion dogs. She has spent the last 7 years working extensively with dogs and their humans on everything from basic obedience and manners to specific problem solving and behavioral modification. Sara knows that ANY animal can benefit from some work and understanding from their people!
Sara is a Full Member of the The Association of Pet Dog Trainers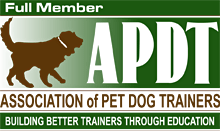 and a Full Member (Dog and Cat Training Professional) of